It seems everything around me, are things I never understood.

Once again, I say, "The lack of consideration and empathy day after day is beyond human endurance".

I knew this would happen the day they forced my Immediate Supervisor/Good Friend to resign. I knew that I would be at the mercy of the Department Head. I knew that I would be doing workload enough for three people. I thought that I had prepared myself for it, but everyday it's proving to be more difficult than I had planned.

Honestly, I am on the verge of cracking. Sometimes I just want to wring people's necks while screaming "Can't you see how much I have on my in-tray?!!?!". Sometimes I just want to drop everything and say, "Ok I HAVE HAD ENOUGH OF THIS!" while flipping my hair over my shoulder then walking out in the manner of a priss. But then I realize, that is not the mature way to solve things. And it was never my nature to easily give up on things (which is why I would make a really good girlfriend because I know I can make a relationship work and last - NYAHAHAHA shameless bench-lifting here!).

Due to these realizations, my latest tactic at work was to admit mistakes and take responsibility for screwing up. I really hate complaining about work in my blog...di ko na iku-kwento kung ano talaga ang situation at work pero kung alam nyo ang Murphy's Law, yun ang nangyayari sakin ngayon. Kulang nalang pati pagpatay kay Ninoy at pag-pollute sa Pasig river ay aminin ko na. But it seems that even this was not enough for our Dept. Head. The next thing I knew, my 201 file was on her desk.

I guess I can't use her to get good recommendation when I apply for my next job.


*****

I remember not so long ago, when I was at the call center, I found myself in a situation that led me to ask several people this question: "Sinong mas pipiliin mo, yung taong mahal mo o yung taong mahal ka?"

Some people answered, "Yung taong mahal ko dahil hindi naman ako sasaya sa hindi ko mahal".

And some said, "Yung taong mahal ako dahil hindi matututunan ko din naman siya mahalin eh."


But one friend answered me this way:
"Tanga! Bakit hindi ka nalang humanap ng taong mahal mo tapos mahal ka din?"

Ngayon ko lang na-apply ang advice nya...

Pasensya na sa blogmush na ito.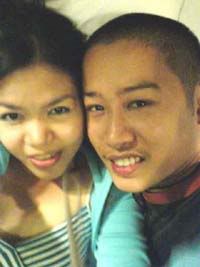 Me & my baby Yo! I love him and he loves me.

It's just so weird how we found each other.

We wouldn't have met each other if I played Starcraft that day.
We wouldn't have met if I had watched a movie that day.
We wouldn't have met if someone paid my telephone bill like they were supposed to.
We wouldn't have met if I hadn't gone on leave that day.

It's also strange because we could have met each other long ago.

We probably passed by each other in the school hallway.
We must've sat near each other in the cafeteria.
We certainly have heard mass together in school uniform.
I must have seen him playing baseball in the field.
He must have seen me in my CAT medic uniform.

But we didn't. We met each other when it was the right time. Even if the past was a path of thorns, it certainly led me to you.

It all made sense when I met you.